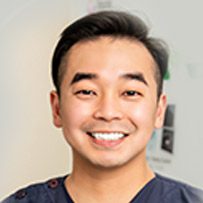 Dr. Douglas Lo
Dentist
Dr Douglas Lo grew up in Malaysia before he moved to Australia to pursue his further education. He graduated from the University of Queensland (UQ) with a Bachelor of Science degree, and continued to pursue with a Bachelor in Medicine, Bachelor of Surgery degree in UQ. It was while studying Medicine that he found his passion in Dentistry. With this, Dr Douglas chose to move to Sydney where he graduated from the University of Sydney with a Bachelor of Dentistry degree. Dr Douglas has since attended courses and conferences to expand his services to accommodate each patient. These include oral implantology, laser dentistry, facial botox and dermal fillers, aesthetic and cosmetic restorations, orthodontics and more.
​Dr Douglas believes in integrating patient factors when making tailored plans for his patients.
He aims to provide treatments that suit our patients and he understands that every patient is unique. He is diligent in his pursuit to stay current in providing leading dental treatments by utilizing state of the art technology eg. Digital implant system.
In his spare time, Dr Douglas enjoys playing basketball and trying coffees in new places. He also enjoys sitting down reading a good book with his two little boys.